This Week's "I want to go to there": Doesn't this place just look fun? Probably because it's clearly for children. Places for children are always fun.
Photo by Cel Lisboa.
Mother and Daughter
I really love this
essay about raising a teenage daughter that has been annotated by the teenage daughter
. Can we have more of giving people the chance to be a part of conversations that are about them?
Escalation
Chris Fox
's installation art, taking old wooden escalators and turning them into sculptures, is pretty amazing.
Doubt vs. Clarity vs. Growth
"Doubt increases with inaction.
Clarity reveals itself in momentum.
Growth comes from progress.
For all these reasons, BEGIN."
– Brandon Burchard (via Swiss Miss)
I never thought about this, but doubt and inaction certainly go hand in hand.
Redefining Balance
Despite the very real joy I feel about Christmas, it is also a very stressful time. I appreciated this article on
how to manage stress when balance feels like a myth
. I especially like the reminder that "balance" as a concept is a but unattainable and maybe we should redefine it. Here, she focuses on priorities instead of balance. I love it!
Chibird Animations
I fell in love with animator
chibird
's art! It's so whimsical and encouraging! For example: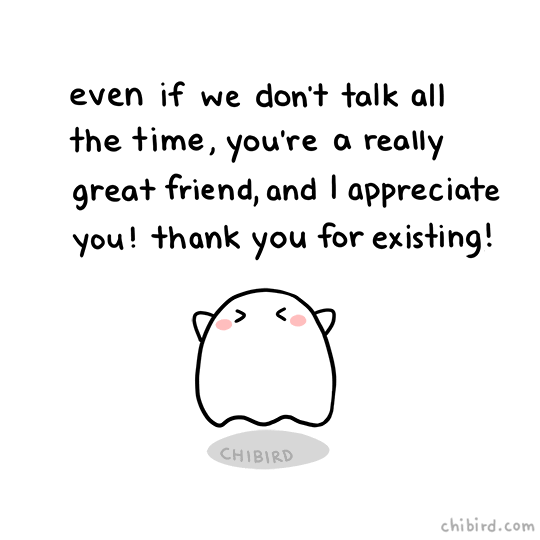 Vancouver Pride
For the past couple of years, Vancouver Pride has been in controversy. Ever since Black Lives Matter landed on the scene and pointed out that police brutality towards the most vulnerable members of the queer community is still a real and present issue, there have been deep divisions in the communities of those invested in Pride on what is the best course of action. Now
Vancouver Pride issued a statement on their process and decision to refuse to allow uniformed police officers in the parade
. I am inspired by the long and hard work they did to consult, research, and be truly honest with themselves about who they serve.
Could they have acted faster and come to this decision sooner? Yes. Could things have been handled differently? Certainly. Are they acting with transparency and integrity now? I think they are and I think all of us who are concerned about inclusion and breaking barriers should read this letter.
Magical Greenhouse of Love
I want to live in artist
Adelina Lirius
' greenhouse dinner party forever.
---
The Receptionist Delivers!
Sign up for my email newsletter for a weekly digest and BONUS CONTENT!
Save
Save