The Paradox of Life
I love me a good paradox, and Annie Lamott describes the paradox of living beautifully.
"The first and truest thing is that all truth is a paradox. Life is both a precious, unfathomably beautiful gift, and it's impossible here, on the incarnational side of things. It's been a very bad match for those of us who were born extremely sensitive. It's so hard and weird that we sometimes wonder if we're being punked. It's filled simultaneously with heartbreaking sweetness and beauty, desperate poverty, floods and babies and acne and Mozart, all swirled together. I don't think it's an ideal system."
– Anne Lamott
Rotoscope Ballerina
This ballerina's joints are being traced by a computer-generated rotoscope technique, giving a mathematical layer to her movements.
Get Some Good News
I just signed up for the
Goodnewsletter
, a weekly email about people who are changing the world for the better. I think this will be a much needed dose of goodness in my life right now. If you're especially fancy, consider subscribing to the
Goodnewspaper
, and get a quarterly print newspaper full of good news!
Chromatin
Chromatin
is a series of gifs and videos celebrating women's hairstyles in Nigeria. They are creative, fun, and geometrically beautiful!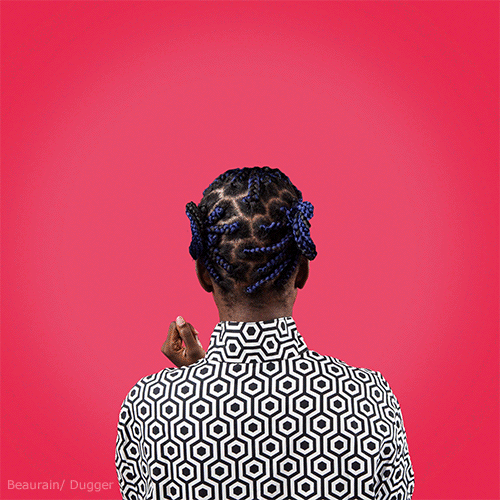 Chromatin #23
Patagonia's Online Thrift Store
Guys. Patagonia is already the most ethical company around. They are the only company I have heard of that is VOLUNTARILY working very hard to eliminate slavery practices their entire supply chain (not just the first tier factories that sew the clothes, but the ones that make the fabrics too).
Now they have created an online thrift store for their products so people can buy secondhand
. I'm in love.
Nothing Left to Do But Laugh
This piece by Aleks Danko, displayed at
Sutton Gallery
, is... striking. (Pun accidental but appreciated.)
...you might as well laugh mate, there's nothing else to do...or we can stand with Pauline and chuck gravel...
2017, Aleks Danko, Sutton Gallery
---
The Receptionist Delivers!
Sign up for my email newsletter for a weekly digest and BONUS CONTENT!